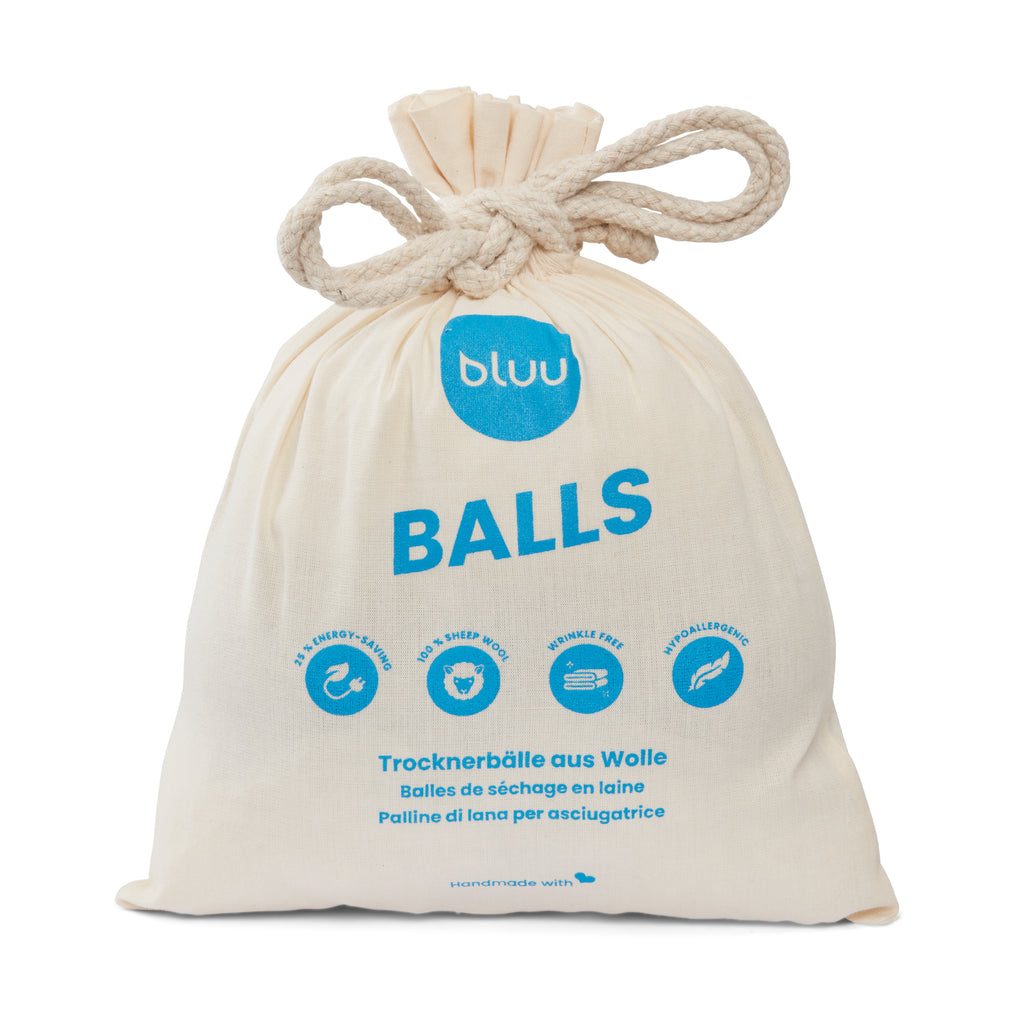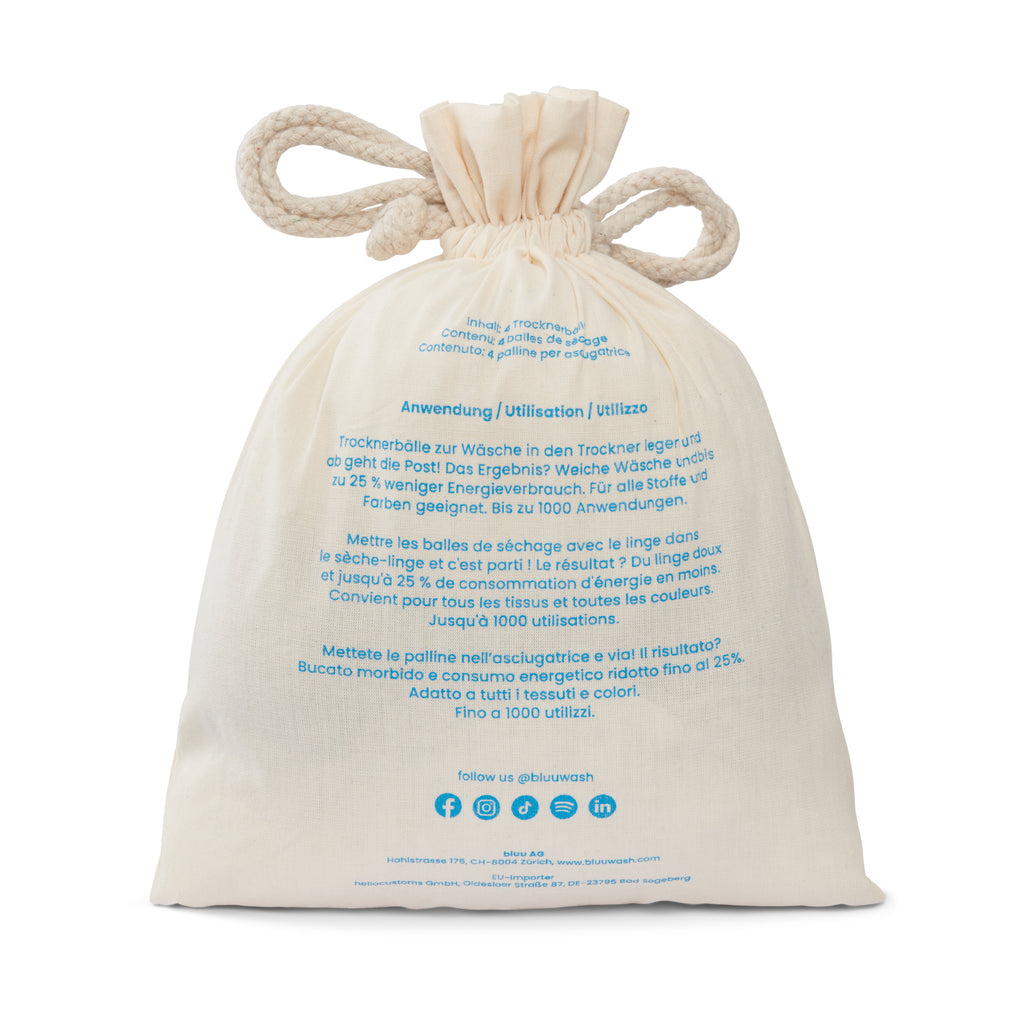 already 52,364 happy bluu users
dryer balls
⚡️ Saves up to 25% energy
😌 Hypoallergenic and odorless
👔 Wrinkle-free and anti- static wash
🌿 Natural alternative to fabric softener
🐑 100% pure sheep's wool
Regular price
Sale price
29.90 CHF
Unit price
per
Sale
Sold out

Free & 100% recyclable eco shipping
30 Day Money Back Guarantee
Wieso die bluu balls?

bluu balls sind Trocknerbälle aus 100% Schafswolle, die eine nachhaltige Alternative zu Weichspülern bieten. Sie sparen Strom, indem sie die Trocknungszeit verkürzen, und sind hypoallergen und anti-statisch, so das Wäsche geschmeidig und weich bleibt. Mit den bluu Tumblerbällen wird die Wäsche sanft und natürlich gepflegt.
View full details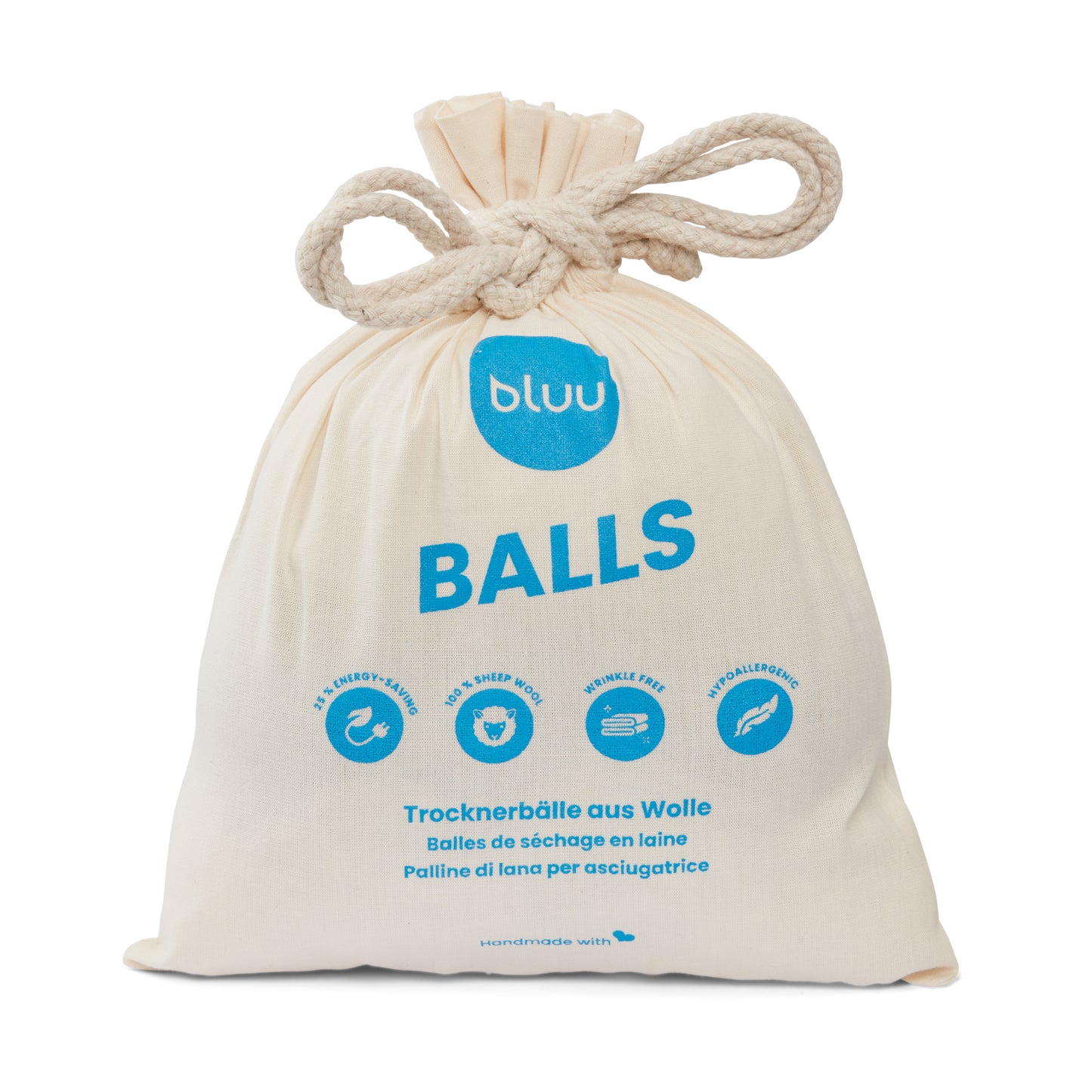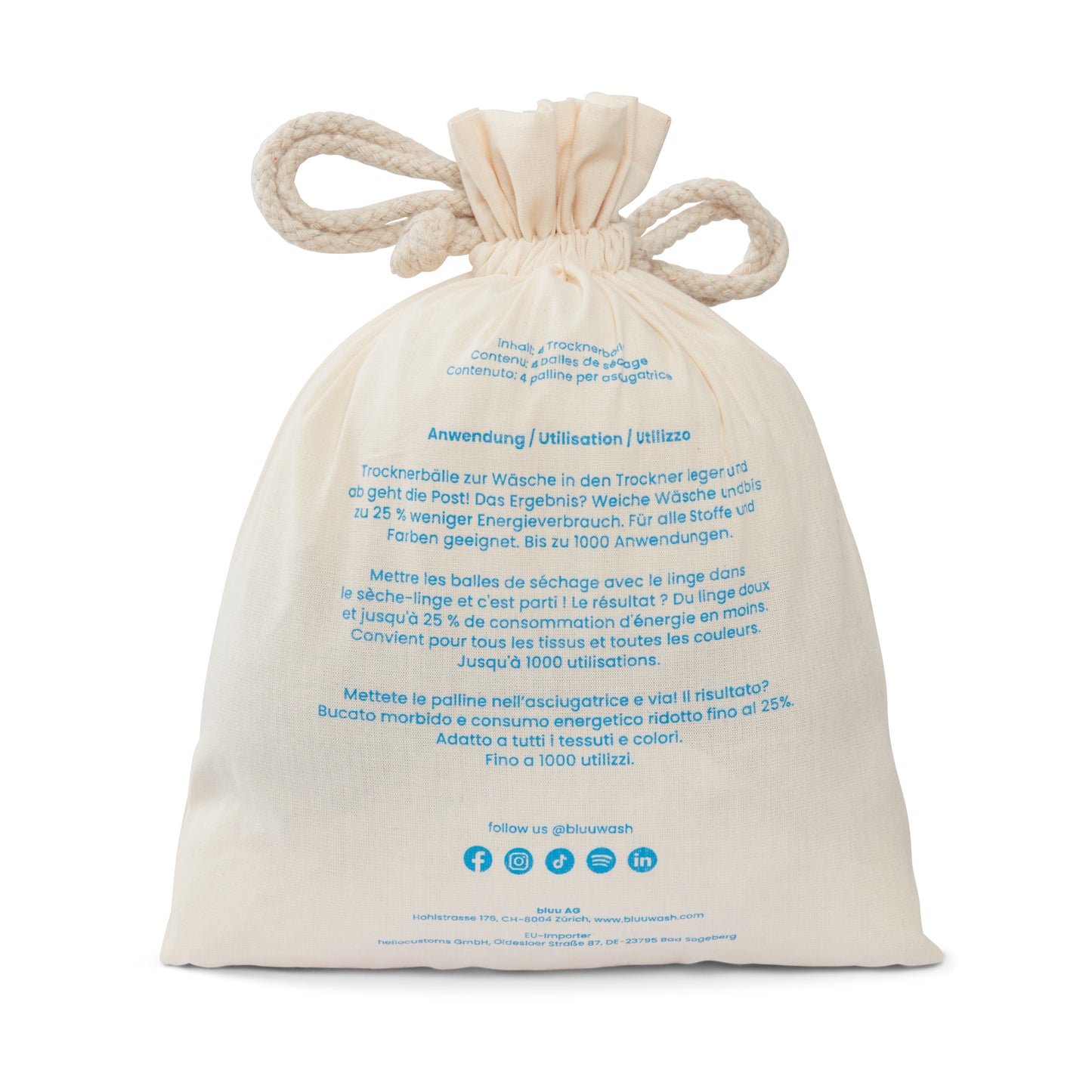 Energy saving
Wrinkle free
Hypoallergenic
100% sheep's wool
Your purchase makes a difference! Become part of the "happy bluu" movement
Already over 52,000 happy bluu users
Benefits of the bluu Balls
⚡️ saves 25% electricity
☺️ Hypoallergenic
👔 Wrinkle-free & anti-static laundry
🌿 Natural alternative to fabric softener
🔄 suitable for all fabrics
🐑 100% pure New Zealand sheep's wool
How it works!
1. Wet laundry in the dryer 🧺
2. The 4 dryer balls 🔵
3. Start drying cycle ☑️
4. Take out dry & crease-free laundry 👔
5. Done ✨
100% pure New Zealand sheep's wool -> mulesing free

Mulesing or mules surgery is the removal of the skin around the tails of sheep without pain relief. It is a common practice in Australia and New Zealand to prevent fly maggot infestation (myiasis).

With our wool dryer balls, we make sure that we only purchase mulesing-free wool.





01

How do dryer balls work?

Dryer balls separate the laundry and allow the air in the dryer to circulate optimally between the laundry items. This reduces the drying time by up to 25% and thus helps to save energy. Due to the fact that the laundry does not lie in a large lump in the tumble dryer in connection with the dryer balls, fibers and down have the opportunity to straighten up and relax again .

02

Why do I have to use 4 dryer balls?

The addition of 4 dryer balls ensures sufficient friction. This means that the laundry dries faster because the heat is better distributed. This also creates more movement in the dryer, so the fibers of the laundry can unfold better and the laundry becomes softer and less wrinkled.

bluu dryer balls should not rub off. However, we do not recommend using tennis balls instead of dryer balls. These could indeed rub off. So we recommend using the bluu balls to be safe.

04

How long do dryer balls last?

Our dryer balls last for approximately 1000 drying cycles.

05

Are there tests on the effectiveness of dryer balls?

Yes, dryer balls have been lab tested for effectiveness. The test showed a reduction in drying time of up to 25%. In addition, the laundry dried with dryer balls was softer and had fewer wrinkles. Link to the study