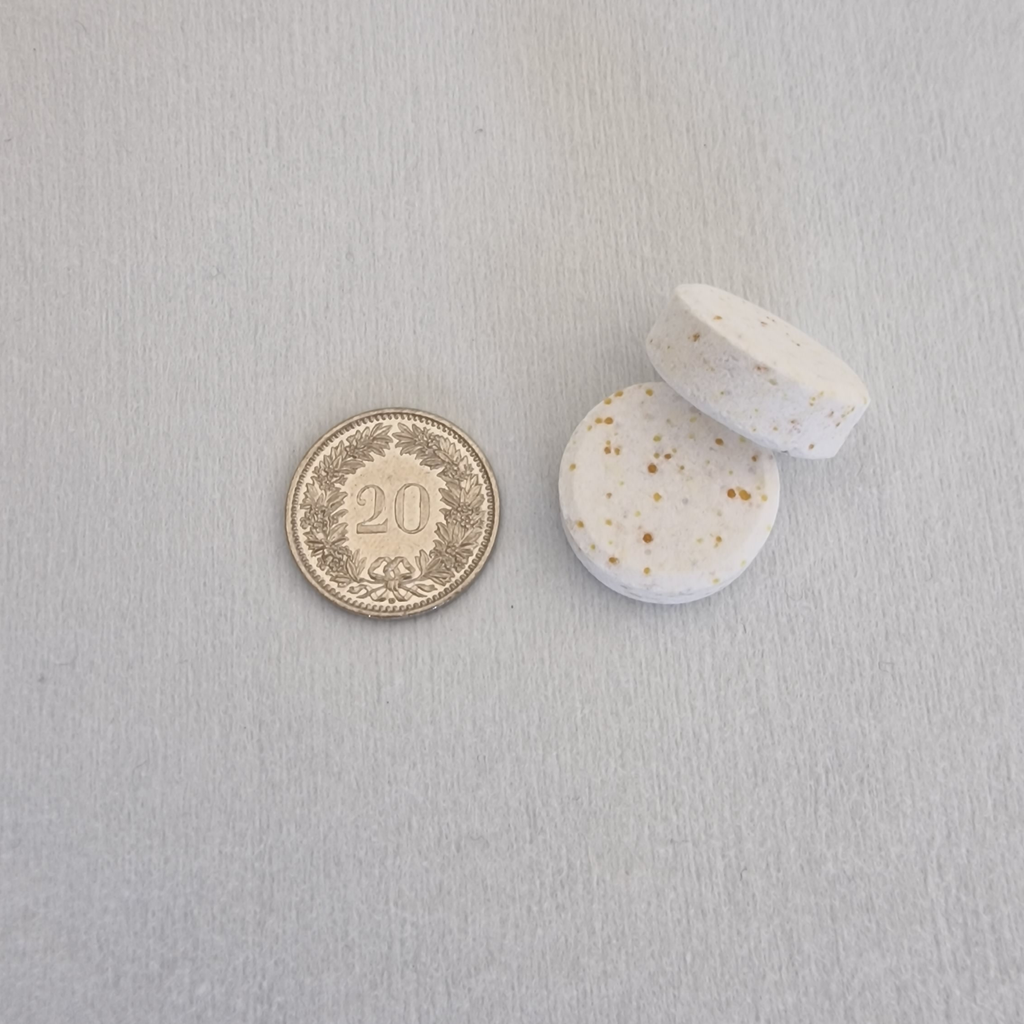 already 65,428 happy bluu customers
The smallest tabs in the galaxy 🛸
62 dishwasher tabs
🚫 Without plastic & unnecessary additives
🌿 Easily biodegradable
💥 Highly concentrated
🇬🇧 Made in Germany
🌱 Vegan

Tiny Tab. Galactically Good. ✨🚀

Regular price
Sale price
24.90 CHF
Unit price
per
Sale
Sold out
📬 Delivery at the end of September

Free & ecologically compostable shipping
30 Day Money Back Guarantee
View full details
Easily biodegradable
Vegan
Ultra concentrated
Without plastic
What distinguishes the bluufos?
🚫 Without plastic
👆 Without unnecessary additives
🌿 Easily biodegradable
💥 Highly concentrated
🇬🇧 Made in Germany
🌱 Vegan
Tiny Tab. Galactically Good. ✨🚀
How it works!
Application: Place 1 to 2 tabs in the dosing chamber. Gentle on glasses and crockery, suitable for porcelain. Also suitable for short rinse cycles. Store cool and dry.

Dosage:
Light-normal soiling : 1 tab
Severe pollution: 2 tabs
Notes: For optimal washing results, add regeneration salt and rinse aid. For the sake of the environment, fully load the machine and use eco mode.
ingredients
Ingredients: Oxygen based bleach 15 -< 30%, nonionic surfactants <5%, enzymes

Content: 260g





01

What distinguishes the bluufos from conventional dishwasher tabs?

Unlike conventional dishwasher tabs, which are often wrapped in plastic, contain microplastics or are wrapped in a PVA film, our bluufos are completely unwrapped and plastic-free and come in recyclable kraft cardboard packaging.

Our dishwasher tabs are not only environmentally friendly, but also vegan: they contain no animal ingredients and are not tested on animals.

In addition, we completely dispense with fillers and fragrances in the bluufos. Our tabs are concentrated and efficient, with no unnecessary additives.

02

How do you use the bluufos?

Place 1 tab in the dosing chamber for light to normal soiling and 2 tabs for heavy soiling. Add regeneration salt and rinse aid for optimal washing results.

03

For which tableware can the bluufos be used?

bluufos are well suited for dishes and glasses of all kinds, even for porcelain! However, make sure that your dishes are dishwasher safe and that you arrange silver cutlery separately from other metal cutlery.

04

Where are the bluufos made?

Our bluufos are made with love in a selected organic company in Germany.

05

What are the ingredients in the bluufos?

Our dishwasher tabs contain only the essentials - they are highly concentrated and free of fillers, plastic and fragrances. They consist of oxygen-based bleaching agents, non-ionic surfactants (sugar surfactants) and non-GMO enzymes.